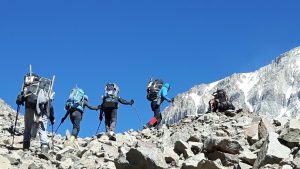 A.P. 1 Nov. 29 – Dec. 18
The team carried to Camp 1 during the day. Now they are back at Base Camp to spend the night and rest tomorrow there.
After that, they will be moving to Camp 1. This process is key to get a good acclimatization.
We attach a photo of the group having a meal at Base Camp and another one above carrying to Camp 1.
We will keep you posted.
The Aventuras Patagonicas Team