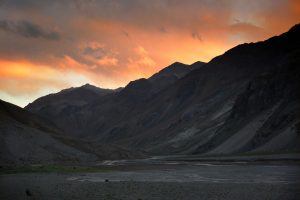 A.P. 1 Nov. 29 – Dec. 18
After spending their second night at Casa de Piedra, the group crossed the Vacas river and hiked towards Plaza Argentina, arriving there today.
Everyone is fine and motivated. Tomorrow they are going to rest there to achieve a good acclimatization and get everything ready for the high altitude camps.
The picture attached shows the approach trail.
We will keep you informed.
The Aventuras Patagonicas Team