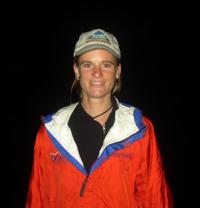 This information can help clarify questions that you have and help in the preparation of your gear before the expedition.
Concerning Gear Check: From my experience of gear check at the start of my Aconcagua expeditions, I feel some additional information would be beneficial when preparing your equipment before arriving to Mendoza. I would like to give you an idea of what happens with your bags and equipment during the Traverse Expedition. To do this I need to explain in more detail our itinerary, where you may leave extra equipment and also when you will see it again.
First, after the gear check in Mendoza, you need to organize your bags and equipment. Anything that you do not need until your arrival back to Mendoza, may be stored there in the hotel for the duration of the expedition as we will return for one night's accommodation at the trips end. You need to pack your duffle bag ready for the mules at Penitentes. If this is prepared before you arrive to Penitentes, it is a great help to the guides. We need to weigh all the groups equipment that afternoon to order the mules for the next morning. You have the opportunity to take out toiletries etc that you may need that night and return them in the morning before the bags leave to be loaded on the mules. You also need to prepare your daypack for the walk in, which will include water bottles, sunscreen, sunglasses, warm clothes, Gore-tex, and the lunch that we will provide you in Penitentes. It is handy to have another bag that would include a fresh change of clothes for when you arrive back to Penitentes from the m ountain and perhaps a spare set of toiletries also. This bag may be stored in Penitentes until we return at the end of the expedition. Penitentes has a great storage place.
Each day, as we commence our trek to Base Camp, we will meet our duffle bags at our camp in the afternoon. We will re-pack our duffles in the morning ready for the mules and need only carry a daypack for the first three days until we arrive to our Base Camp. On the third day you will need to pack your river shoes in your daypack as this day we have some wet river crossings. We suggest neoprene river shoes rather than sandals as the water is extremely cold and can be often fast flowing with loose rocks under the surface which may not be visible.
Once we arrive to Base Camp the mules will leave all our equipment there and return back to Penitentes. We now start to organize the gear that we will take up and over the mountain to Plaza de Mulas, which is the Base Camp on the Normal Route. This is the last opportunity you will have to leave gear that is not essential, in your duffle bag, to stay at Base Camp, you could bring an extra book and walkman, for example, but after completing our first load carry to Camp 1, may decide to leave them as they are extra weight. The duffles left at Base Camp stay there until the entire group arrives at High Camp. In the case that someone may need to go down early, they have their gear, and also we have extra tents and food. Mules will then arrive to collect this equipment and take it back down to Pentitentes so you will not see it again until you arrive there at the end of the expedition. This is important information as you need to be self-sufficient with everything you will need to be carried with you until that time. As well as being prepared with your high altitude equipment, you need to remember that we traverse the mountain and on the last day have a 7 to 9 hour walk out from Plaza de Mulas Base Camp to the trailhead in Puente del Inca where we meet our transport to Penitentes. This walk has similar terrain as the walk in the Vacas Valley to Plaza Guanacos Base Camp, tracked terrain and also rocky riverbed. It is not advisable to wear your plastic mountaineering boots on this day as it is extremely uncomfortable and we may have very warm weather. As with the walk in, it is also not advisable to wear new shoes because of the blisters this causes. You need to bring with you, from Guanacos Base Camp, a pair of shoes for this day. We suggest the lighter the better as you need to carry them. A pair of light trainers would be ideal but be aware that if you are used to wearing trekking boots, they may be safer to walk out in but keep in mind the weight, it seems best to hike to Plaza Guanacos in your favorite hikking boots and have some very light trainers for the hike out leaving the heavier boots at base camp on the Guanacos side. Also as it can be warm, it is worth carrying your trekking pants and a t-shirt for this day. You will need to carry a water bottle, food, sunscreen, a polarfleece and Gore-tex for this last walk in case of bad weather. Often people use the lid of their pack as a fanny bag to carry these items or a stuff-sac. It is not worth carrying your heavy daypack over the mountain however if you have a light one, such as Go-lite, you may consider bringing if your pack lid is not removable. Also a mid size compressor stuff sack is great for this particular day, using 2 of the straps as back pack. It works well.
Once we arrive in Plaza de Mulas we organize our backpacks and group equipment to be taken out by the mules the next day. Your pack will be put inside a canvas bag to protect it and we group together our boots and tools separately. When we arrive to Penitentes after our trek, you will meet all this equipment as well as your dufflebags from Guanacos Base Camp and the items you left in storage there. We stay that evening in Penitentes and have transport to the hotel in Mendoza the next day.
I hope that this information can help clarify questions that you have and also help in the preparation of your gear before the expedition. Good luck organizing, and hope to see you in Mendoza soon.