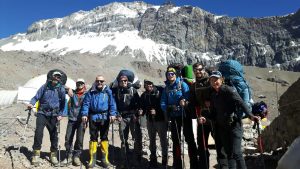 A.P. 1 Nov. 29 – Dec. 18
The group successfully moved to Camp 1 today. They already had dinner and are in their tents ready to rest.
Rolo, the lead guide, said they are all fine and adapting to the high altitude.
The picture above shows the group this morning at Base Camp, right before leaving towards Camp 1.
We will keep you updated!
The Aventuras Patagonicas Team