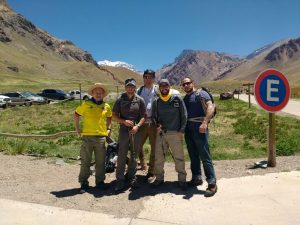 A.P. 5 Dec. 27 – Jan. 7
The team left the city early this morning. They were ready to start the trip, very excited about the upcoming days!
This expedition will only last 12 days, as they came here already pre-acclimatized, using an Altitude Training System with a hypoxic tent.
They will be ascending the Normal Route, hiking towards Confluencia Camp along the Horcones Valley. After spending the night there, the group will head to Plaza de Mulas Base Camp tomorrow. The photo above shows them at the trailhead, ready to begin the hike.
Their lead guide, Julián Castro, will keep us updated calling us with a satellite phone.
As you can see in the picture below, the four climbers and their guide shared a meal last night, tasting some delicious steak.
Keep checking our page, as we will be posting more news soon!
The Aventuras Patagonicas Team