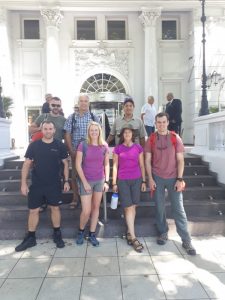 A.P. 4 Dec. 27 – Jan. 15
We were glad to welcome a new great team to Mendoza! They had a meeting yesterday and shared a tasty dinner together, as seen in the photo below.
This morning the group left the city and was driven to Penitentes, where they will be spending the night. And tomorrow the team starts hiking!
They will move towards Pampa de Leñas, the first stop on their way to Plaza Argentina Base Camp. The 3-day approach hike, which is approximately 40 kilometers long, will give them the chance to get a good acclimatization.
They are led by two great guides, Matías Sindoni and Angela Cardenas. They will be using a satellite phone to keep in touch with us.
We will share more news about their journey soon!
The Aventuras Patagonicas Team