Trip Overview
Your Aconcagua Expedition – by Rodrigo Mujica
Mendoza, Argentina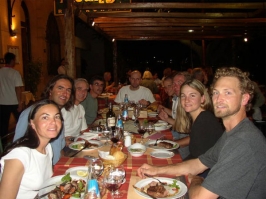 Our expedition begins and ends in the City of Mendoza, Argentina. The city of Mendoza is a charming town with pleasant wide avenues, boulevards and parks. Our first step will be to check your gear in your hotel room, ideally, after you have rested from crossing the globe. Gear check is a critical step. It is important to pare down to the essential items you will need to climb to the Top of the Americas. Often at gear check we discover someone has brought gear that is not warm enough. More than one experienced Alaskan has forgotten the essential expedition parka! It is difficult to procure gear in South America, though times are changing. Do not count on being able to find what you need once you get down to South America. Mendoza is your best bet to buy or rent gear, although it is not always easy to find at the last minute. Make sure you leave home with everything on your equipment list. If you are having serious difficulty finding a particular item please let us know before you leave for South America! We have a limited amount of rental equipment.
A group meeting will follow gear check. We will introduce your guides and team members and talk about several aspects of your expedition. We will discuss the philosophy and style of the expedition, the effects of Diamox and prescription medications at altitude, sanitation, water treatment, teamwork, and the art of climbing big mountains. Dinner will take place immediately after the meeting at a fine Mendoza restaurant reached via a pleasant walk from the hotel. We will have a chance to taste gourmet Argentinean cuisine, fresh beef, delicious wines (there are plenty of alternatives for non-drinkers and vegetarians in the group as well). Be prepared for a late dinner since dinnertime in Argentina begins at 9:00 PM!
First thing the next morning our van will take us to Penitentes, a ski area on the Argentinean side of the dramatic Andes Mountain Range, a 3 to 4 hour ride from Mendoza, ascending over 6,000 feet through rugged mountain scenery.
The drive to Penitentes is spectacular. Approximately 100 miles after leaving Mendoza driving west through the expansive Central Valley, we reach Uspallata, a small agricultural town where we stop for lunch and then continue heading west towards the Cordillera de Los Andes (the Andes Mountain Range). We follow the Mendoza Valley gaining altitude as we drive deep into the jagged Andes. Imposing peaks and profound valleys line our route until we reach Penitentes. Once in Penitentes we do our last minute packing to arrange mule loads and then have a free afternoon to enjoy a hike or just relax. Penitentes is the beginning of our acclimatization process, and although we are at only 8500′ the time spent here is essential to our slow building process of reaching 22,834′ ! Our body is a high performance machine and it starts compensating right away to the lower oxygen environment, even in Penitentes, producing more red blood cells which is exactly what we want it to do!
The Approach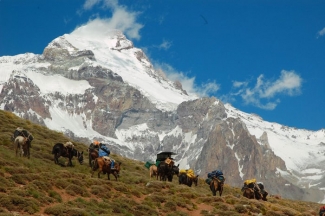 The next three days will be spent on our approach to Base Camp at 13,800′ . Mules and their muleteers will carry all of our gear to Base Camp except for our day packs which we carry daily with food, water and a change of warm clothes. We have access to our mules and gear every night on the approach. This makes our hike in very enjoyable. Our approach will involve about 40 kilometers / 25 miles of spectacular colorful high desert scenery. Normally it gets very hot and dry during the day. Occasionally a thunder shower will pass by and have us quickly changing from shorts to our warm clothes. After a 4-5 hour hike the first day, we will camp at Pampa de Lenas at 8,910′ (meaning grassy area with firewood), unload the mules, set up camp, drink matte (a caffeinated tea served in a gourd and drunk with a metal straw) with the local gauchos, and get our permits checked at the rustic ranger station.
Early morning we start the day with a glacial river crossing of the Vacas River then slowly gain altitude up the Vacas Valley heading north. The Valley opens up revealing a geography of high mountains, possible sightings of guanacos (cousin of the llama) and condors, and incredible geological features – a perfect setting for a western movie. At the end of our hike for the day, after a 5-6 hour walk, we reach Casa de Piedra at 10,230′ (meaning Stone House) and get our first view of the mountain since we began our approach. From this camp, Aconcagua – the Stone Sentinel, appears more magnificent and intimidating than ever, a giant of Himalayan proportions. We can see the entire East face with the majestic steep Polish Glacier. This is one of the nicest camps of the expedition with a breathtaking first view of Aconcagua and the excitement of getting closer to this colossal peak, mounting, which often makes Casa de Piedra a memorable place throughout the expedition. In the morning we get our daily dose of glacial cold water by crossing the Vacas River again, this time being a mere knee deep walk in cold water since we are much closer to its source here. Most of the time you can get a ride across on a horse which is very nice.  We head up the Ameghino Valley.  The third day is a favorite among many clients because of the spectacular view of Aconcagua and Ameghino peak the whole day.  The chance of seeing other expeditions on this new exciting route is remote. The chance of seeing numerous wildlife is much more probable. Spectacular glaciers contrasting with a desert backdrop make this approach both surreal and unforgettable.
By the end of our day' s hike, after 6-7 hours of walking most of us will feel the altitude as we arrive at Plaza Argentina, our 13,800′ Base Camp.
Base Camp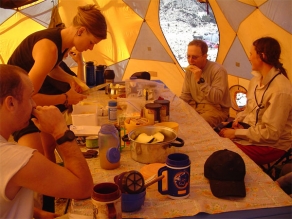 We will spend a minimum of 3 nights in Base Camp. We want everyone to have the best possible chance to acclimatize and make the Summit. The most effective way to do this is to take the time to acclimatize to the low oxygen environment. Occasionally a person does not acclimatize properly and is susceptible to pulmonary and/or cerebral edema. These are serious conditions that require immediate descent. All precautions will be taken to ensure your safety. We will incorporate rest days into our schedule and climb in traditional expedition style. We will be carrying loads up to the next camp and returning to sleep below at the previous camp. Carry high and sleep low. The next day we will move to the higher camp.
The first day in Base Camp is always a rest day and a good occasion to take a bath and go for a short walk. We will divide expedition loads to carry to the next camp; community gear, fuel, food and individual lunches. Often our loads aren t heavier than 50 lbs. Although this may not seem very heavy to you, with the combination of high altitude it can be a considerable challenge to anyone. Make sure your pack is at least 6000 cubic inches capacity since some days you will need this much space for the high traverse (to the normal route) for our Traverse expeditions. Often for the descent the packs are huge since we carry everything at once. At this point in the trip our food and fuel supply is low . Everything else that we have been double carrying or cache-ing, including our garbage, has to go down in one carry.
After our rest in Base Camp we will do a carry to Camp I, at approximately 16,300′.  This is a challenging day where we gain 2,500 feet with a heavy load, up some easy but sometimes tricky, loose terrain. We will emphasize breathing in rhythm with our pace using power breathing, rest step, and other techniques that will help save energy at these elevations. We will incorporate a rest about every hour, and a breather (a short standing break) every 20 minutes or so. As we go higher, this simple breather will became our best friend. Breathers will also be taken more often as we get higher, especially on Summit Day. Breathers are an essential part of high altitude climbing allowing you to keep going for long periods of time.
Camp I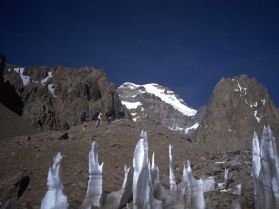 At Camp I we will cache our loads and descend down to Base Camp with empty packs to spend the night. The following morning could be a possible rest day, or a definite move to Camp I; this will depend on how the group did the previous day, how the group is doing now, and on the weather. On most expeditions we do stay an extra day in Base Camp. This has proven to be a great idea. Base Camp is one of the last comfortable places we will be for a while. If you don't take the opportunity to get acclimatized at Base Camp, you may end up taking another rest day (or days) in a more uncomfortable camp somewhere high up on the mountain and jeopardize your chance to summit. More than a needed rest, this time in Base Camp is an essential acclimatization period before tackling the peak!
The move to Camp I is always exciting. Leaving behind the comfort of Base Camp, we begin our climb of the highest peak in the Western Hemisphere. At Camp I, teamwork is key, building rock walls to protect our tents from the wind, making level platforms to place our tents on, fetching snow or water for cooking, organizing our gear, etc. It is endless work camp-crafting at high altitude.
Camps II, III & High Camp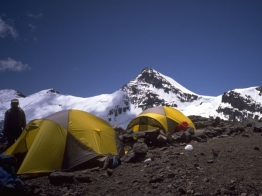 Our next step is to establish our Camp II, at 17,500′, with first a carry, then a move. We will have fantastic views of the Andes from this camp. The route is straight forward non-technical hiking to reach this camp, our main challenge is altitude. The load seems to get heavier and heavier at these elevations. If needed, we can take rest days or weather days. We have planned for this in our schedule, and extra food and fuel will be carried for this purpose. The next step will follow a carry to Camp III, at about 17,800′ , and then a move to Camp III hopefully the next day. Camp III, at 17,800′ (5,400 mts), is fantastic with overwhelming views. Here you get the feel that you are up high in altitude!
Our High Camp, Piedras Blancas (White Rocks) at 19,200′ , follows the same procedure of carry to High Camp, return to sleep below at Camp III, then move to High Camp. There will be more scree, patches of snow, and thinner air in our daily menu with incredible vistas of the Central Andes. We will be surrounded by 20,000 foot giants. At 19,200′ building camp is laborious and takes a group effort. From here on, the route will be different, depending on which Aventuras Patagonicas expedition you are on.
Routes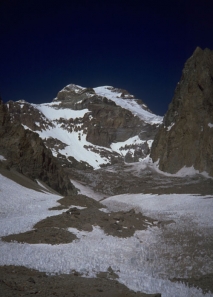 For our Polish Glacier and Ameghino Upper Guanacos Valley and Traverse Routes the itinerary is basically the same until we reach 19,200′ at the base of the Polish Glacier. Polish Glacier parties will climb up the challenging and constantly changing Polish Glacier which begins at 19,200′. Traverse parties will traverse at 19,200′ towards the Normal Route to White Rocks (Piedras Blancas). After summiting, they will descend Aconcagua via the Normal Route, on the north side.
Aconcagua Ameghino Valley / Upper Guanacos Traverse Expedition with porter option
Our Ameghino Valley and Upper Guanacos traverse route, with porter availability, is presently the BEST route on the mountain. Our long-time favorite route on Aconcagua, the Guanacos Valley route, is presently closed (the lower part of the route) to expedition access. We will be using our Ameghino route to approach Aconcagua while this closure is in effect. Our Ameghino/Upper Guanacos traverse expedition uses part of a previously established route (a.ka. Relinchos Valley ), named after the striking Ameghino Peak, (19,530'), which surrounds the route. This route joins up with the upper section of our Guanacos route. Our Ameghino route is cleaner and less climbed than the over popular Normal Route of Aconcagua. This route, just as our Guanacos Valley route, has a higher success rate due to a longer approach (than the Normal Route) allowing more time for acclimatization. The Ameghino route is non-technical, and porters are readily available, if needed, at Base Camp – Plaza Argentina, for carries to the higher camps, and for the descent.
Above Camp One of the Ameghino route, we reconnect with the upper portion of our long-time favorite Guanacos route, offering our clients the benefits of both routes. The benefit of the upper portion of the Guanacos route, and the benefit of the less remote Ameghino Base Camp (Plaza Argentina), allowing our expedition parties the comforts of an established base camp, our own chef, access to porters, a medical doctor, and more, none of which are available at the lower Guanacos Base Camp.
The Ameghino Valley and Upper Guanacos Traverse begins with the same approach as the Guanacos Valley for the first 2 days. On the third day, we take the beautiful Ameghino Valley up to Base Camp. This eastern approach to the mountain is not as heavily traveled as the Normal Route. After three days of spectacular, colorful, high desert scenery, we reach our deluxe Base Camp – Plaza Argentina, at 13,800'.
Above Base Camp, we meet up with our traverse, then to the summit of Aconcagua, and our descent via the Normal Route. We will circumnavigate Aconcagua, traveling several different valleys; the Vacas, Ameghino, Guanacos, and Horcones Valleys. We experience an entire spectrum of Aconcagua, passing four spectacular faces of this tremendous mountain. On our 3-day approach to Base Camp, on the east side of Aconcagua, mules carry our gear, stopping each night along the way, so we have access to our gear. After summit day, we descend the north side of Aconcagua via the Normal Route, to Plaza de Mulas Base Camp. Mules carry our gear from Plaza de Mulas Base Camp to Penitentes, while we hike out to civilization with a light pack.
Note: The Aconcagua Park Authorities have closed the lower Guanacos Valley until further notice. We hope to see this route reopened. This route closure does NOT affect our Ameghino / Upper Guanacos Traverse Expediton.
The Aconcagua Traverse For All Routes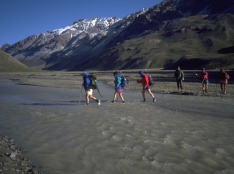 The traverse has proven to be a favorite method of climbing Aconcagua for Aventuras Patagonicas, after having successfully guided Aconcagua this way for many years. This is one of the most interesting and exciting ways to climb Aconcagua. All of our Aconcagua expeditions traverse the mountain, (except our Normal Route with Porters expedition) ascending the spectacular Guanacos Valley Route or the Ameghino Valley & Upper Guanacos Route, and after summiting, descend to our previously established High Camp. We then traverse the mountain and quickly descend the Normal Route. Mules then carry our gear from Plaza de Mulas back to Penitentes while we hike out to civilization with a light pack. This allows us to experience the entire mountain. We travel through three immense river valleys, and view each of the four tremendous main faces of Aconcagua. For many seasons we have been guiding our expeditions via the Guanacos Valley, which include our traverse to the Normal Route for the descent.
Summit day on Aconcagua is a tremendous challenge no matter which route you are on. Reaching Aconcagua's 22,834' summit, especially the final 3,600' to the summit, for many of you will be one of the toughest physical and mental challenges you will ever encounter. It is the most demanding and serious day of the expedition. It is here where taking the time to properly acclimatize by ferrying loads and taking extra days in Base Camp will pay off. It is here where you will be glad you carefully followed the equipment list. It is here where you will feel that you are getting your money's worth by having expert High Altitude Guides guiding and pacing you closely, and constantly assessing how your body is coping with the altitude. A good window of weather is needed for Summit Day. We have several days for the summit set aside on our itinerary. A calm, windless day is optimal.
SUMMIT DAY DETAILS FOR THE GUANACOS VALLEY & FOR THE AMEGHINO VALLEY/UPPER GUANCOS ROUTES: After an early start it is not unusual to spend 12 hrs climbing up to the summit, leaving camp with headlamps from Piedras Blancas, at 19,200′. An hour later we connect with the Normal Route trail, often a cold morning with a light breeze, where -20 F is not unusual for Summit Day before the sun comes up. Gentle slopes will take us to Independencia, an old abandoned wooden hut at 20,790'. Normally the sun shines here for the first time that day. It is pleasant but still very cold. The next section is called "El Paso del Viento" (meaning the Pass of the Wind), where often there is a strong breeze even on calm days. This pass is entirely in shadow this time of the day, and it is critical to move with efficiency through this section to avoid frostbite, and worse case scenario, to abort our summit attempt due to severe cold or weather.
The next section is called the Canaleta, at 21,450′. This can be the crux of the entire climb, depending on conditions. Sometimes it can be covered with hard packed snow. Snow in the Canaleta is ideal. Or sometimes the slope is dry with loose boulders and scree. Pacing yourself becomes difficult, due to altitude and the loose scree and boulders underfoot, making upward progress frustrating and challenging. We often rope people up through some sections where a potential long slip could occur. Note: remember that you DO NOT need a harness for this route. Your guide(s) will carry a rope and webbing to quickly rig a harnesses if needed. After the Canaleta we reach the Summit Ridge, just 300 from the Summit. This last section takes normally up to 1 hour. From the Summit Ridge you can look down the spectacular South Face of Aconcagua, a gigantic 10,000 face of rock, snow, and ice. The South Face is one of the hardest and most renowned routes in the Andes, a serious undertaking for even the expert climber.
After summiting we return to High Camp and get a well deserved rest The next day we descend the Normal Route to Plaza de Mulas Base Camp. Here we will spend the night and arrange our gear for the mules to carry out. The next day is a one day walk out to the trailhead where transport will meet us and take us back to Penitentes. After a night in Penitentes we will return to Mendoza where a fun celebration dinner awaits us!!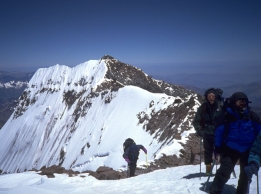 ON THE POLISH GLACIER ROUTE: For this route we need an early start. At about 1:00 AM our stoves will be running for our Polish Glacier climb. We have a very demanding and long day ahead. An 18 hr day is very possible while climbing the Polish Glacier. The line we choose will depend on conditions. If a lot of penitentes (snow pinnacles formed by direct sunlight) are encountered in the lower section of the glacier we will start by climbing through the scree and rock on the right hand side. The steeper Polish Glacier Direct Route has been the choice route in recent years. Although steeper, it is safer and easier due to fewer icy and exposed traverses than on the old Polish route. On this spectacular, steep snow and ice climb we will use several running belays. In steeper icy sections we will climb pitches instead of using running belays, belaying and regrouping at every anchor. A long day of climbing will take us to the Summit Ridge at 22,000′ after the last steep pitch; a 55-60 degree narrow gully with the entire Glacier below at our feet. The final ridge is very long and gentle. After summiting, we descend quickly down the Normal Route, where at Independencia (20,790′ ) we traverse east back to our High Camp at 19,200′ . After an exhausting day we sleep late and the next day descend to Plaza de Mulas Base Camp, and then it is a one day hike out to Penitentes.
Ratio
For non-technical routes we take a maximum of 9 clients and 3 or 4 guides. For the Polish Glacier we take a maximum of 6 clients and 2 guides. Normally on the Polish Route we take 4 clients and 2 guides.
Food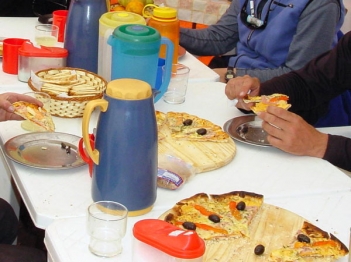 Our menus are some of the best expedition menus available in the guiding industry. They have been developed meticulously and thoughtfully, evaluating amount of calories per day, carbohydrates, weight, taste, variety and creativity. We are very proud of our menus and Rodrigo uses them as well in his Alaskan expeditions on Denali. Most of our dinners and breakfasts are carbohydrates. For the approach and our stay at Base Camp we bring fresh fruit and vegetables, meat and fish, a variety of fresh appetizers, and wine. Dinners up high are complemented with freeze-dried vegetables. We will eat 100% freeze-dried meals only at our high camps for a maximum of 3-4 days per expedition. It has been proven to us that freeze-dried isn t the best choice except where weight and cooking time is a factor up high. They have a lot of preservatives, are not the best energy source, and can be sometimes hard to digest. The freeze-dried meals we have chosen are our favorite and you may find them very delicious! For the rest of our meals we use food such as rice, mashed potatoes, macaroni and cheese, cous-cous, tortellini, pastas, etc, complemented with freeze-dried vegetables and sauces for flavor and variety. Our lunches have lots of high energy calories, fiber, and complex carbohydrates, changing according to the altitude that we are at. We emphasize tremendously on staying hydrated and bringing plenty of all kinds of tea, juice, cocoa, etc. We have soup every night of the expedition with dinner, except for Day One. One of the most important aspects of our menu is the way we pack our food. Although not related to the taste of the food, it is logistically one of the keys to our success. We carefully measure everything in specific amounts. Everything is carefully prepackaged, labeled by day, and waterproofed to take the abuses of a 3 day mule ride. Finally, the small amount of garbage that we produce during the expedition is an indication of our careful packing process. We will also bring all the way to Base Camp, carried by mules, fresh vegetables and fresh fruit. Please let us know when you sign up for an expedition if you are vegetarian, have any food allergies, or strong preferences or dislikes so we can pack food accordingly for the expedition.
Overview and History
Cerro Aconcagua, 22,834 feet (6,959 meters) has the distinction of being the highest mountain in both the Western and Southern Hemispheres, making it also the highest mountain in the world outside of Asia. Its name is native in origin and may come from the Inca word Ackon Cahuak which means Stone Sentinel. This spectacular mountain is located in the heart of the Chilean-Argentine Central Andes, at a latitude of 32 degrees 40 minutes South.
Aconcagua was first climbed in 1897
Aconcagua was first climbed in 1897, up the Northwest side of the mountain by Swiss Mountain Guide Matthias Zurbriggen. This route has become the most popular way to climb the mountain, and is known as the Ruta Normal or Normal Route. The extreme altitude, severe winds, and cold temperatures make an ascent by this, or any other route on this mountain, very challenging. In 1934, a second route was pioneered up the east side of the mountain, by a Polish team. The Polish approached the mountain up the Vacas and Relinchos Valleys to Plaza Argentina, and summited via what is known today as the Polish Glacier.
Tribute to Mattias Zurbriggen
Our Polish Glacier and our Ameghino and Upper Guanacos Expeditions will follow the 1934 Polish Expedition Route for the first two days. We approach of Aconcagua via the remote and less traveled Vacas and Ameghino Valleys. We would like to continue our approach via the lower Guanacos Valley but this route is presently closed. From our Base Camp at Plaza Argentina (13,800′), we ascend gentle slopes all the way to Camp I , II and III. The Polish and Ameghino Upper Guanacos Valley Routes continue along the same route all the way to our High Camp at 19,200′. From here our Polish Glacier Expedition will climb the Glacier reaching the Summit via the Polish Glacier and our Ameghino Upper Guanacos Valley and Traverse Expedition will traverse to the North side of the mountain, connecting with the standard Normal Route to the Summit.