A.P. 3 (Dec 10-21, 2022)
We met this motivated team yesterday! They had a group meeting and tasted a typical barbecue paired with some local wines. Here´s a pic of them enjoying this delicious meal.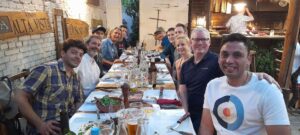 They left the city this morning to start hiking  the Normal Route along the Horcones Valley.
 They will spend their first night at Confluencia Camp. Tomorrow they will continue to Base Camp.
The group is led by the guides Rolo Abaca, Matias Nestares and Gastón Riollo. They will keep us updated, calling us by sat phone.
We'll keep you posted!
The Aventuras Patagonicas Team