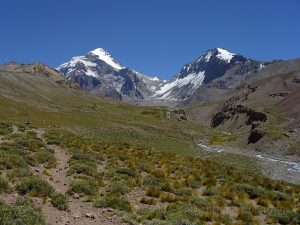 A.P. 2 Dec. 17 – Jan. 5
After spending the night at Penitentes, the group started the approach trail today.
A van took them to the trailhead at Punta de Vacas. Ready for the adventure, they began this 3-day hike. It is approximately 40 kilometers long, so it will allow them to get a good acclimatization on their way uphill.
The trail is filled with amazing views and beautiful landscapes, where they will be able to appreciate the typical local flora and fauna.
This is just the beginning of their long-awaited expedition! As soon as we get more news, we will be posting them.
The Aventuras Patagonicas Team