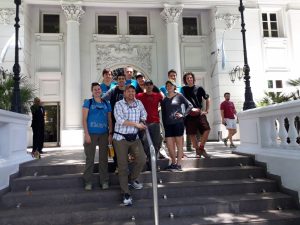 A.P. 3 Dec. 17 – Jan. 5
The team is ready to start the trip!
After the group got their permits to enter the Aconcagua park, the guides loaded the van with all the gear and everyone jumped into it, ready for the adventure!
They enjoyed the scenery on their way to Penitentes, where they will spend the night. After packing everything, they will be ready to start the approach trail tomorrow morning.
This 3-day hike, filled with amazing views, is approximately 40 kilometers long and will take them to Plaza Argentina Base Camp at 13,800′.
The team is led by Sebastián Satke and assisted by the guide Matías Nestares and the apprentice José Purto.
As shown in the picture below, the group shared a meal together last night, paired with a good local wine.
Also, we are sharing a video that we just received from Sebastián, the lead guide, where you can see how everything is getting ready at Penitentes.
Stay tuned as we will be posting news soon! Looking forward to a great expedition!
The Aventuras Patagonicas Team