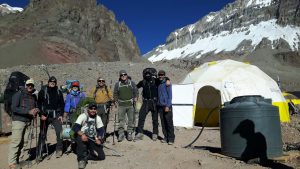 A.P. 2 Dec. 17 – Jan. 5
The group left Base Camp and moved to Camp 1 today.
They are all fine and working hard. The whole team wishes Merry Christmas to their families and friends.
We are attaching a picture that shows them at Base Camp, minutes before they left towards Camp 1.
The photos below show the group sharing a meal with another team last night at Base Camp.
From Aventuras Patagonicas, we also want to salute you for Christmas.
We will post more news soon!