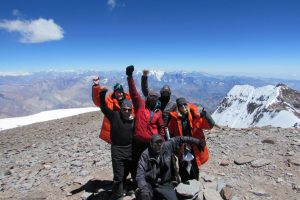 A.P. 2 Dec. 17 – Jan. 5
We were glad to welcome everyone back to the city, after their amazing trip to the mountains.
Yesterday the group had dinner together, sharing it with another expedition. They tasted a typical Argentinian barbecue, paired with great local wines.
After all those days spent together, the group got the chance to share a delicious meal, before going back home.
The pictures below show them on their way to the summit and enjoying dinner yesterday.
Congratulations for your big adventure! Have a nice flight back home!
The Aventuras Patagonicas Team