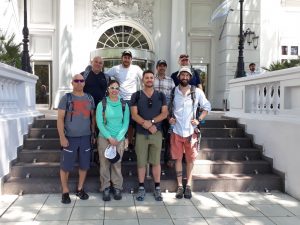 A.P. 6 Jan. 6 – 25
We met this great team at the city, who shared a meal last night.
They got their permits to enter the Aconcagua park this morning and after this, everyone was ready to start the trip!
The group left the city and went to Penitentes, where they are spending the night. The 3-day approach hike begins tomorrow at Punta de Vacas and will take them to Plaza Argentina Base Camp.
They are led by two experienced guides, Rolo Abaca and Adrián Jiménez. During the expedition they will contact us with a satellite phone.
We will keep you updated! As soon as we get more news, we will be posting them.
The Aventuras Patagonicas Team