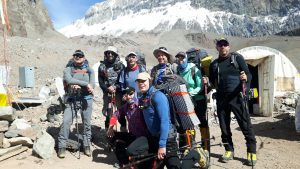 A.P. 6 Jan. 6 – 25
Rolo, the lead guide, called us and said they moved to Camp 1 yesterday. The group reached an altitude of 16,300′. It was windy and cold up there. It also snowed, but everyone is fine and working hard.
The guides will be calling us again soon, telling us their next steps according to the weather conditions.
The picture above shows the team at Base Camp, right before leaving towards Camp 1.
We will keep you posted!
The Aventuras Patagonicas Team